Welcome to the weekly roundup where I share with you interesting articles from across the web. I hope you enjoy and absolutely feel free to share and pass along.
Our Kansas City Financial Planner Weekly Roundup
Hello everyone and welcome to another edition of the NextGen Wealth Weekly Roundup. Hope you're having a great week!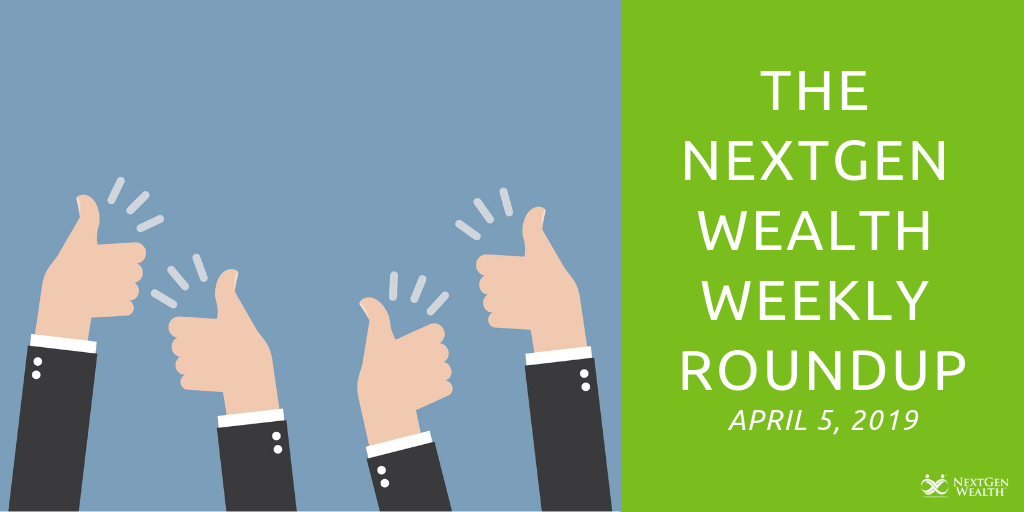 I had to take a little break from the roundup the last couple of weeks with lots of things happening here at NextGen Wealth. However, I expect to be back on track moving forward and should be able to get the roundup posted every week. I hope you join me in reading!
In other good news, the weather has finally started to turn here in the Midwest...FINALLY. This is by far my favorite time of the year with baseball season just getting underway and the Final Four starting this weekend. Life is good.
We are coming back strong with our weekly roundup with some great pieces. Enjoy the weekend and find some time to relax.
7 Different Paths to Financial Independence
First up, we turn to Marc over at the Vital Dollar where explores a few different paths to financial independence. That's right, not everybody gets to financial independence the same way as there are plenty of options. This is an awesome piece that provides a ton of information. If you're looking for some ideas on how you can carve your own path to financial independence, then this is for you.
Today, the financial independence, retire early (FIRE) movement is gaining popularity very quickly. Although a lot of people are working towards the same goal of financial freedom or financial independence (FI), there are several different paths you can take to get there.
What to Do If You Win the Lottery
Next up, we turn to Money Crashers on some ideas of what you can do if you win the lottery. This one caught my attention because we recently did a similar post: How To Invest Your Lottery Winnings (Or Any Large Sum Of Money). Many of these ideas of what you should do with this money apply to any windfall of money you happen to run across - now it's just a matter of finding a large lump sum of money :-)
I have admitted it before and I will admit it again - occasionally, I play the lottery. Not with any real expectation of winning, of course, but just for the fun of it and the "what if" tease that comes when some of my numbers pop up.
How I Increased my Salary by 100% in 4 years
Next up, we turn to Jessica at The Fioneers on how she was able to increase her salary by 100% (double it) in 4 years. If that doesn't catch your attention, then I don't know what will. This is a fantastically well-written piece that provides a ton of great information that anyone can apply. You don't want to miss her 7 actions that you can take in any industry to increase your salary. Enjoy!
Increasing your savings rate is the most crucial step to help you achieve Financial Independence. If you can negotiate a salary increase, you could dramatically increase your savings rate. In this post, I'll share with you what I did to increase my salary and 7 tips to help you increase your salary that can be generalized across roles and industries.
Here Is Why We Should Focus On What Matters
In our final read of the week, we turn to our good buddy Fred at Money with a Purpose on why it's so important we only focus on what matters most. In other words, spend your time focusing on what really matters to you and try to let all the noise go. Yes, it's easier said than done but if you can filter out all of those distractions that aren't doing anything for you, then you can truly have a life with purpose.
It's a crazy time right now, isn't it? The media machines of the internet, cable news, online forums, and everything in-between can be distracting. In this 24-hour news cycle and our own business, how can we stay focused on what matters? How can we let go of what doesn't?
Things We Were Up To This Week
If you're looking to minimize taxes in retirement, or anytime before, one of the options is converting your traditional individual retirement account (IRA) into a Roth IRA. This shifts the tax burden from a future date to the present day. Before you make such a move, though, it's important to consider what this will mean to your finances.
Do you have a child that might go to college someday? If so, then you've come to the right place. In this article, we provide you with our best college savings tips regardless if your child is 10 years away or 1 year away. We have tips for all of them.
If you've found this page, then that means you or someone you love has high blood pressure and you're worried about your (or their) chances of getting life insurance. If so, then you are in luck.
Wrap Up
Enjoy the weekend and spend time with family and friends. Take a break from work and give your mind some well-deserved rest from the long week. Cherish the time you have with your family and I guarantee it will make your life much happier!
Follow us on social media and be sure to sign up for our monthly newsletter - I can assure you it's not the same boring financial newsletter you've seen before.