Welcome to the weekly roundup where I share with you interesting articles from across the web. I hope you enjoy and absolutely feel free to share and pass along.
Our Kansas City Financial Planner Weekly Roundup
Hello everyone and welcome to another edition of the NextGen Wealth Weekly Roundup. Hope you're having a great week!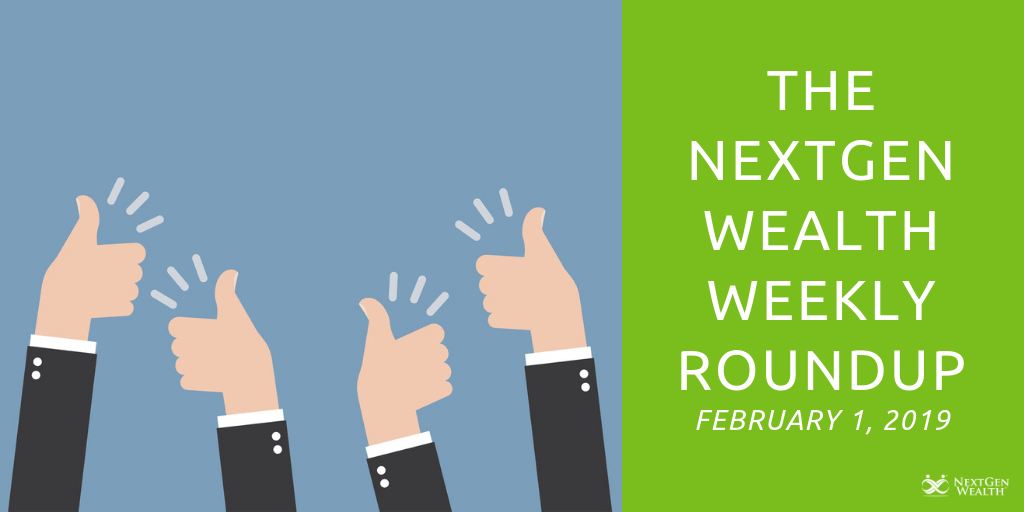 If you live in Kansas City (or pretty much anywhere in the country), then you just experienced some of the coldest temperatures we've seen in years and, in some places, ever. The great thing at least, is we'll be seeing some extremely nice weather this weekend.
As for the stock market this week (and this month), it was one heck of a start to the year, particularly, after the rough December we experienced. While I didn't think we'd see things bounce as fast as they did, it was a pleasant surprise but also gives me a little cause for concern as well.
In other big news this week, my wife and I welcomed into the world our daughter, Harper Christine Haynes (we didn't know if it was a boy or girl). She is amazing and both her and mom are doing great. Crazy enough, she was actually born on my 40th birthday...which is totally fine with me because I'm more than happy to turn over that day to her after I've had 40 of them :-)
Have a fantastic weekend and enjoy some incredible weather before it turns cold on us again. And, of course, take a few minutes to enjoy my favorite reads from the previous week. You never know what you'll learn.
The Absolute Best Online Surveys That Pay Cash (There's Only 2)
Next up, we turn to Andrew over at The Wealthy Nickel where he drops some knowledge on the best surveys online that will pay you cash. While I've never actually filled out online surveys before for cash, Andrew has certainly done his research. So, if you're looking to earn a little extra money, this is one you'll want to check out.
Question: Are there actually online surveys that pay cash? Answer: Yes! Follow-up Question: Are there a ton of crappy, spammy, terrible online survey sites out there that send you a million emails, sell your personal information, and generally aren't worth your time? Answer: Also yes!
28+ WAYS TO GET FREE AMAZON GIFT CARDS
Next up, we look at another really interesting piece on different ways you can earn yourself some Amazon Gift Cards...now who doesn't want that? Once again, this was all new to me but just goes to show you all the interesting ways you can earn money (let's face it, Amazon gifts cards are money) online.
Getting an Amazon gift card nowadays is basically like receiving cash. Here are 28+ amazing ways to get free Amazon gift cards. Today, there are a dozen ways to make money online. You can earn up to$100 or more worth of free Amazon gift cards.
How do normal people get rich and become millionaires?
Next up, we turn to one of our regulars, Steve Adcock at ThinkSaveRetire, with a truly motivational piece on how normal people become millionaires...and no, it's not by winning the lottery. These are some very practical rules that anyone can apply to their life.
How do normal people get rich and become millionaires?
How To Use The KonMari Method By Marie Kondo To Save Money
In our final piece this week, we turn to The Finance Twins for yet another tip from Marie Kondo on how to use the KonMari Method to save money. Who knew this method could be used for so much? Hope you enjoy and pick up a few tips!
In August 2018, a close friend recommended the book "The Life-Changing Magic of Tidying Up: The Japanese Art of Decluttering and Organizing" by Marie Kondo. At the time, we had never heard of this book, the author or her KonMari Method.
Things We Were Up To This Week At NextGen Wealth
Whether you're new to investing or you're a seasoned pro, you're bound to make mistakes. As you gain more experience with the market, you'll be less prone to making impulse decisions. However, there's one mistake that all investors are bound to make at one point or another - trying to time the market.
Purchasing life insurance is an important step towards safeguarding your family's long term financial security. Once you have decided to purchase a life insurance policy, it's now time to choose the right plan for your financial situation. In this piece, we look at whole life insurance versus universal life insurance.
There's no "one size fits all" solution when it comes to life insurance. Some prefer the less expensive and straightforward appeal of term coverage. Others utilize their policies both as lifetime guaranteed protection and see the cash value as an additional way of investing and saving money.
Wrap Up
Enjoy the weekend and spend time with family and friends. Take a break from work and give your mind some well-deserved rest from the long week. Cherish the time you have with your family and I guarantee it will make your life much happier!
Follow us on social media and be sure to sign up for our monthly newsletter - I can assure you it's not the same boring financial newsletter you've seen before.