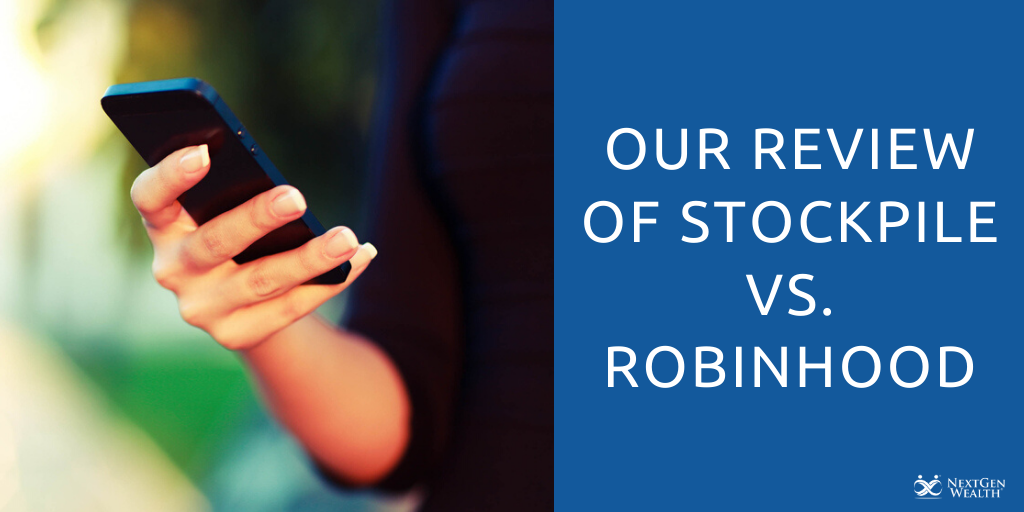 In the old days, if you wanted to invest online, you had to have some knowledge of what you were doing, and some capital already so that you could pay trading fees and other expenses.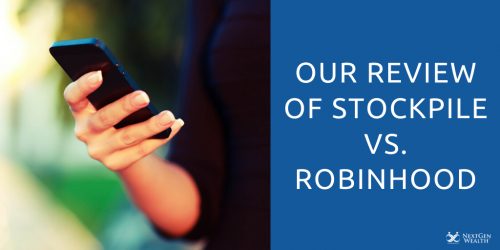 These days, there's an app for that. Actually, there are many different trading apps available, but for this article, we're going to look at two of them: Robinhood and Stockpile. We'll break down how they're similar and how they're different, as well as which one is best for the kind of trading you may be doing.
The Basics of Robinhood
This app was started in 2013 by founders Vladimir Tenev and Baiju Bhatt. The primary selling point of Robinhood was that it offered a completely free platform for people to trade online. By 2019, the company was valued at $7.6 billion, thanks mainly to its massive popularity among both new and veteran traders.
What sets this app apart from the competition is that all aspects are free. Typically, programs like this charge a monthly or annual fee, on top of fees for every trade. Over time, they can add up to a lot of money. Thankfully, even after seven years, Robinhood is still sticking to its original model.
When it comes to trading, you can trade in stocks, exchange-traded funds (ETFs), stock options, and cryptocurrencies. Recently, they also started allowing fractional share trading, just in case you want to diversify your portfolio even further.
The Basics of Stockpile
Interestingly, this app was founded on the idea of teaching stock trading to children. When Stockpile started in 2010, the basic outline of the program was that you could get gift cards that were tied to stock in big brand companies like Target or Wal-Mart.
Looking to take control of your finances and start planning your path to financial freedom today? Check out The Financial Freedom Blueprint® Course!
Since then, Stockpile has expanded its services to allow for standard trading, although it's much more limited than Robinhood. Currently, you can only trade in stocks, fractional shares, and ETFs. Also, it charges $0.99 per trade, which can get expensive a lot faster than you may realize.
Another limitation with Stockpile is that the trades don't happen in real-time. Instead, they are processed at the end of the trading day, which can potentially alter your plans.
Unique Features: Robinhood vs. Stockpile
Although there are many similarities between these two apps, they have some crucial differences as well. Let's break down the features that are proprietary to each program.
Robinhood
Cryptocurrency Trading
This app was one of the first to allow users to trade in crypto. That being said, you can't do it in all 50 states, so be sure to check before you get too excited. Also, considering the volatility of the cryptocurrency market right now, you may want to be more conservative about trading anyway.
Manual Dividend Reinvestment
As far as downsides go, this can be a big one. Typically, trading apps will automatically reinvest any dividends you earn. For whatever reason, Robinhood doesn't, so you'll have to do that extra step yourself.
However, since trades cost nothing, it can encourage you to diversify your portfolio. After all, you're essentially using free money.

Robinhood Gold
For just $5, you can upgrade to Robinhood's Gold plan, which allows you to trade on margin. If you're unfamiliar with the practice, margin trading simply means that you borrow money from your broker to buy stocks.
It can definitely be a risk, but if you hunch that a stock is going to blow up, trading on margin can yield some big rewards as well. Also, keep in mind that you have to have a minimum of $2,000 in your account to satisfy federal regulations.
Custom Notifications
Although the app isn't as detailed as some others out there, it does allow you to keep a closer eye on your investments. You can get push notifications for a wide array of items, including stock prices, "corporate actions," and others. You choose which details get pinged and which ones don't so that you can avoid having your phone blow up all day long.
Stockpile
Gift Cards
Since this feature was the original point of Stockpile, it makes sense that you can still do it. Essentially, you're gifting stock to other people in the form of a digital card (or you can print it). Best of all, the minimum balance for these cards is $1, with a maximum of $2000. Again, the primary point of gifting stock was to teach children, but it works with adults as well.
Dividend Reinvestment
Although this function is pretty much standard everywhere else, it's worth mentioning as a unique feature since Robinhood doesn't have it. Any dividends you earn from your stocks are automatically reinvested unless you tell Stockpile not to.
Credit Card Funding
Usually, you have to have real money in your account to make a trade. Stockpile offers some flexibility by allowing you to buy shares on credit. However, you do have to pay a fee to do this, so be sure that you know what you're doing first.
Heads Up - Comparing Robinhood vs. Stockpile
Now that we've seen what these apps do differently, let's make a side-by-side comparison. This way, you can get a better understanding of the pros and cons of each program. The elements we'll be going over on this list include:
Fees
Ease of Use
Minimum Investment
Trade Options
Customer Service
Security
Advice and Guidance
Fees
Really, there's no comparing the two on this feature. Robinhood became one of the top trading apps on the planet because it doesn't charge any fees. Best of all, there doesn't seem to be any hidden costs as well, so you can trade with impunity.
Unfortunately, users of Stockpile will be hit with a wide variety of fees. The app charges for each trade, as well as a fee to generate a gift card ($2.99). If you use a credit card, that's a fee, and there are other hidden costs depending on how you use the program.
Simply put, with Robinhood, you can feel confident that your account balance will remain untouched. Not so with Stockpile.
Winner: Robinhood
Are you looking at how to create your own path to financial independence? Check out The Financial Freedom Blueprint® Course and start creating your own path today!
Ease of Use
Here is where both apps are almost identical. Because Stockpile was designed for kids and teenagers, it has a remarkably simple and user-friendly interface. Children can even make trades themselves and just have a parent or guardian approve them.
Robinhood is also super simple to set up, and since there are no account minimums or fees, you can start trading almost immediately. Plus, learning about the different notifications and trade options is pretty straightforward.
Overall, both apps are helpful for new traders, but Robinhood can be customized to appeal to experienced traders as well.
Winner: Robinhood (Slightly)
Minimum Investment
Both apps are excellent for people just getting into trading. Neither one has a minimum balance requirement, so you can get started with no money down. However, considering that Stockpile does charge fees, you will likely want to have some cash in your account, unless you want the costs taken directly from your debit or credit card.
If you upgrade to Robinhood Gold, you will have to keep at least $2,000 in your account. This is a federal regulation, so you can't talk to Robinhood about lowering it if necessary. However, since the Gold package is designed for more experienced traders, this requirement shouldn't be too much of a setback.
Winner: A Tie
Trade Options
As we mentioned, Robinhood was one of the first apps that allowed traders to deal in cryptocurrency. Also, now that you can trade fractional shares, the program is much more versatile than Stockpile.
Here is a complete list of trading options for both apps:
Robinhood - Stocks, ETFs, Options, Fractional Shares, Cryptocurrency
Stockpile - Stocks, ETFs, Options, Fractional Shares, Gift Cards
Also, remember that you can trade on margin if you upgrade to Robinhood Gold. Once you master the art of trading with your own money, it could be worth exploring trading on margin as long as you know all of the risks involved.
Finally, Robinhood enables you to trade in real-time, while Stockpile only pushes trades through at the end of the day. If you want to capitalize on a changing market, Robinhood is a much better bet. However, if you don't really care, then either app will suffice.
Winner: Robinhood
Customer Service
Although we like a lot of the features you can find on Robinhood, one area that the app is lacking is customer support. If you have a question or need to solve a problem, all queries are handled via email.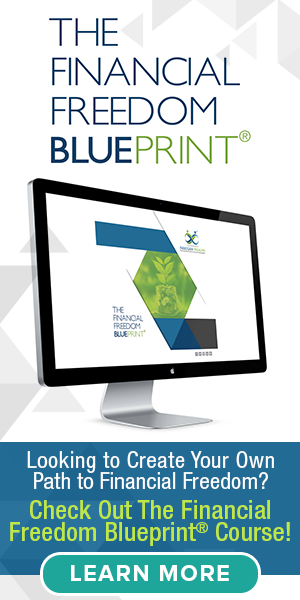 No phone calls, no live chat. In the modern world, this single-channel approach can seem a bit antiquated and frustrating. If you need help with a problem immediately, Robinhood can be slow to respond. However, you should get a reply within 24 hours.
Stockpile, by comparison, offers all three contact channels. The app doesn't list when it's email staff is live, but there is a chat box in the app, and you can call customer support between 9 a.m. and 6 p.m. Eastern Time. With both chat and email, you can expect a response within a day, although you can get lucky and get a more immediate reply.
Winner: Stockpile
Security
Both apps use a 256-bit encryption code to ensure that your financial data is safe from hackers. Also, both companies are members of the Financial Industry Regulatory Authority (FINRA) and the Security Investor Protection Corporation (SIPC).
Being members of these organizations means that your money is insured in case of any disasters or mishandling of funds. Also, it ensures that Robinhood and Stockpile are following all current federal regulations.
Winner: A Tie
Advice and Guidance
Since both of these programs are geared toward new investors, you would assume that they offer tips and tricks on how to trade. However, you'd be hard-pressed to find a guidebook on either website or app.
That being said, the user interfaces of Robinhood and Stockpile are simple and easy to follow. So, as long as you have some idea of what to do, you should be able to figure it out.
Robinhood is slightly better at providing insight into the stock market, thanks to its various notification trackers. You can see what the market is doing overall, or you can pay closer attention to the companies in which you're investing.
Robinhood also allows for candlestick charting for the last five years. If you're not familiar with that term, it refers to the movements of the price of a specific stock or security. Simply put, you can see how it's been performing and use that data to make an informed decision.
Finally, Robinhood allows you to divide stocks by "collections." That means you can organize them based on a specific trait, such as companies with female CEOs. While this feature may or may not be fruitful, it's nice to know that you have options when picking stocks.
By comparison, Stockpile doesn't provide much insight or knowledge beyond the basic attributes of each stock. Interestingly, an app designed to help kids learn about investing forces you to know most of these things already.
Winner: Robinhood
Are you ready to start your journey to financial freedom? Check out The Financial Freedom Blueprint® Course and start today!
Who is Robinhood Best For?
Overall, we highly recommend Robinhood for both new and experienced traders. Its no-fee policy can help you save money in the long run, and its relatively detailed analysis can help you make smarter moves with your investments.
If you're a serious trader, however, we recommend finding an app that gives you more insight and control. While Robinhood Gold does add some advanced features, it's not as comprehensive as other programs we've seen.
Who is Stockpile Best For?
Because of its fees, Stockpile is really best for anyone who likes the idea of gifting stock. Beyond that, there aren't that many unique features to make the app appealing.
The Verdict: Robinhood wins in our comparison