Technology has made so many facets of modern life easier. When it comes to finances, you no longer have to meet with an actual person in an office to manage your money. Now, there's an app for that.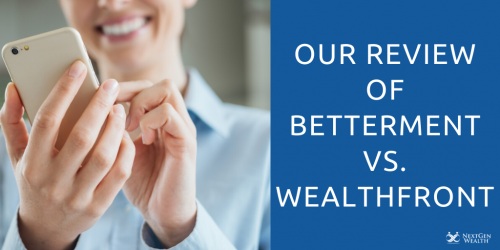 However, while there are plenty of finance apps on the market, two of them are notable for their high-tech approach to investment and portfolio management.
Wealthfront and Betterment are the leading programs that utilize robo-advising. Rather than a person making the right moves for your money, a complicated set of algorithms and codes do it for you. While there is a distinct advantage to robo-advising, these apps approach it somewhat differently.
So, with that in mind, we want to take a closer look at these programs to see which one might be best for you. This is our review of Betterment vs. Wealthfront.
A Brief Overview of Betterment and Wealthfront
Before we dive into the various features and options that these apps have, let's breakdown the basics first. Here is what you need to know about how Betterment and Wealthfront manage your money.
Wealthfront
Technically speaking, this app came out in 2008, but it took a few years to evolve into its current form. Overall, Wealthfront is geared toward high-end investors who want to get better tax advantages and granular control over their investments. This app is also excellent for college savings, as you can open a 529 account with it.
That being said, Wealthfront goes all-in on robo-advising, which means that you can't talk to a person if you have questions or want a second opinion. So, as long as you trust the machine to do its job well, you won't have any problems.
Account Balance: $500
Management Fee: 0.25-percent
Account Options: individual and joint investment accounts, IRAs, 529 savings, and high-yield savings. You can also access a portfolio line of credit if you qualify. Some accounts have variable fees, so pay close attention to them.
Betterment
This app also started in 2008 but just prior to Wealthfront. So, it's actually the oldest robo-advising app on the market. There is something to be said about being first, as it allows the company to grow and adjust based on user feedback and demand.
You will notice that Betterment is more user-friendly, particularly for those who don't have a lot to invest. Overall, it appeals to a broader spectrum of investors, although Betterment does have a premium option for those with high-value accounts.
Account Minimum: $0
Management Fees: 0.25-percent for the original, 0.4-percent for Premium
Account Option: individual and joint investment account, IRAs, high-yield savings
Unique Features of Betterment and Wealthfront
For the most part, these apps are identical, but they do differ in a few key areas. Here is a quick breakdown of the unique offerings you can find in each program.
Betterment
Human Advisor
While you do need a Premium account and $100,000 to get access to a living person, it's a nice add-on to the original version. Even if you don't have six figures in your account, Betterment also offers advisors for specific life events, such as getting married or buying your first house.
While a robot can make precise calculations, its bedside manner is lacking. Being able to talk to someone about your goals can help you reach them faster. Keep in mind that advisors do charge for each session, but it's similar to what you would find elsewhere.
Smart Depositing and Two-Way Sweeping
Usually, the best method for investing is to do it automatically. If you're always waiting for the right moment, you'll put less money away. Fortunately, Betterment can take the guesswork out of this process for you with Smart Deposit.
This feature works by automatically sweeping any excess funds in your linked checking account. So, if you tell the app that you only need $1500 at any given time, it will deduct any overage for you. Betterment does notify you before each sweep so you can cancel if necessary.
Best of all, the sweeping goes both ways. If your funds dip below a specified amount (i.e., $100), it will take money from your high-yield savings to replenish it. Again, the app notifies you before each transaction, and you can adjust the minimum and maximum amounts as needed.
Charitable Donation
Although this function is mostly designed as a way to avoid tax penalties, you can utilize it as much as you like. You pick the charities, and Betterment can donate some or all of your appreciated shares. Giving back has never been simpler.
Automated Tax Coordination
Both apps help you take advantage of tax-loss harvesting (more on that later), but Betterment also leverages your accounts to reduce your tax burden overall. Since your assets are spread across multiple accounts, those that are taxed highly will go into an IRA so they'll be deferred. Overall, the app is about as tax-efficient as possible, although it doesn't practice loss harvesting at the stock level.
Wealthfront
College Savings
If you're going to put money away for higher education, the best place to put it is a 529 savings account. These accounts offer tax-free growth, even when withdrawing - as long as the money is used for college. Also, there are no age, income, or other limitations for contributions. Wealthfront uses the Nevada plan - each state has its own benefits - and charges all-in fees up to 0.46-percent.
PassivePlus Tax Harvesting
As we mentioned, both apps harvest tax losses automatically, but only Wealthfront can do it at the stock level. You do need at least $100,000 in your account to get this feature, but it can help you protect even more of your money from taxation. According to the company, this tactic can add another two percent to your portfolio overall.
Digital Financial Planning
Although you can't talk to a human advisor, Wealthfront does offer a digital version called Path. This feature is available to all users, and it's free. Planning for life events like college, retirement, and buying a home are made easy with Path. You can see how your investments and financial habits can affect each event, and what you can do to improve the outlook.
Our Review of Betterment vs. Wealthfront - Comparing Similar Features
Now that we've seen what makes these apps different, let's compare how they stack up everywhere else. We're going to analyze each software based on the following components.
High-Yield Savings
Tax-Loss Harvesting
Investment Portfolios
Retirement Planning
Support
Security
High-Yield Savings
As with all investors, you want your money to work hard. Fortunately, both programs have high-yield savings accounts, although the APY is slightly different.
Neither app charges fees to move money in and out of the account, and they are not subject to investment or management. Also, neither one requires a minimum balance, and the FDIC insures them for $1 million.
Winner: Tie as interest rates are typically about the same for both platforms.
Tax Loss Harvesting
We could write a whole other article about tax-loss harvesting (in fact, we have), but here's a basic overview. Let's say that you bought two stocks at $20 per share. One of them appreciated to $40, while the other depreciated to $10. If you sell both stocks at the same time, you can use the loss of the one to offset the other. So, instead of having to pay taxes on the $20 gain, you only have to claim $10 instead.
Tax-loss harvesting is really ideal when you use long-term losses to offset short-term gains, and when you move the money from a depreciated account into a comparable one. Fortunately, since these apps do this all for you, you don't have to worry about making the right move. Best of all, if you sell more losses than gains, you can carry those forward to the following tax year.
Wealthfront does have a distinct advantage over Betterment because it offers the PassivePlus option for those who qualify. Instead of individual stocks, Betterment only does tax-loss harvesting for ETFs. As we mentioned, you can potentially save a lot more money with PassivePlus, but if you don't have enough in your account, it's a moot point anyway.
Also, Wealthfront does offer more resources to understand the finer points of tax-loss harvesting, just in case you want to dive deeper into this tactic.
Winner: Wealthfront, assuming that you qualify for PassivePlus
Investment Portfolios
Here is another area where the apps differ. Let's break down some of the notable options offered by each program.
Wealthfront - investors can pick and choose stocks with PassivePlus, as well as put stocks on a restricted list if they prefer. Not only that, but users can select alternative asset classes such as real estate. Wealthfront has a proprietary mutual fund for those who want higher risk-adjusted returns.
Betterment - this app allows investors to buy fractional shares, which is handy for anyone who doesn't have a lot of money to invest. Also, rather than listing stocks as restricted, Betterment enables users to be socially conscious with their money. Users create guidelines, and the app invests accordingly. Finally, Betterment has a BlackRock Target Income feature for those who want to earn income from their investments.
Overall, the primary benefit of Wealthfront is that you can have more control over your investments. Betterment makes it easier for new investors to grow their money, and with the BlackRock feature, the app automatically reallocates funds and locks in gains for the user. Since this process can be cumbersome to do manually, most investors will appreciate the simplicity of its interface.
Winner: Depends on what you want to use the app for
Retirement Planning
Both apps have excellent features to make planning for retirement easier. We already mentioned Path by Wealthfront, which takes all of your linked accounts and social security projections to provide insight. Not only that, but it can compare your current spending habits and expenses to what you should have in retirement so that you can plan accordingly.
Once again, Betterment allows you to talk to a human advisor about retirement if you wish, which may be more comfortable for some investors. One feature that we like is that you can tie different goals to varying strategies. For example, your retirement accounts can be a higher risk since they are long-term.
Winner: Betterment, if you want a human advisor
Support
Wealthfront only has a phone number to call if you need password assistance. The company does respond to queries on its Twitter page, but overall, you can't get much in the way of customer service. Wealthfront really leans into the "robo" part of robo-advisor, which can be off-putting for some users.
Alternatively, Betterment has live chat, email, and a phone number to call if you need help. Also, with a premium account, you can talk to an advisor regularly, but remember that you have to pay extra for each consultation.
Winner: Betterment
Security
Wealthfront's accounts are protected by the Security Investor Protection Corporation (SIPC) up to $500,000. Betterment is not a member of the SIPC, but each account is cleared through Apex Clearing, which has a high security rating.
Both apps offer two-factor authentication and biometric scanning, and each platform has substantial protection from hackers.
Winner: Tie
Bottom Line: Betterment is For All Investors, Wealthfront is For Veterans
If you're new to investing and want something easy to use, Betterment is the best option. We like that it has a Premium Membership if you want access to an advisor, and its portfolios have plenty to offer.
Wealthfront is a bit more technical, so it's ideal for the investor who knows what to do. Also, we don't recommend it if you don't plan on investing that much. Maintaining a $500 account balance can be tricky for some users, so they should probably stick to Betterment instead.